As you might know Bioderma is my favorite skincare brand so today I want to show you my favorite products.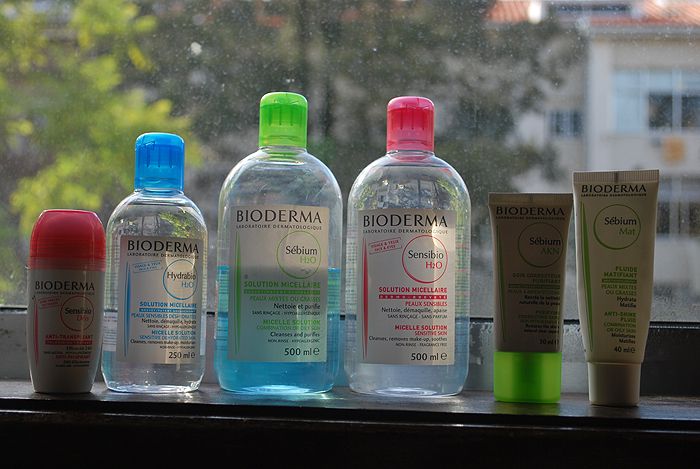 1. Sensibio Deo Anti-Perspirant Alcohol Free Hypoallergenic
It is my favorite antiperspirant! It is alcohol free and hypoallergenic which is great because my skin is so sensitive and I am also allergic to many antiperspirant. I've been using it for 2 years or so and it still works great!
2.,3.,4. Hydrabio H2O Micelle Solution Sensitive Dehydrated Skin - Sebium H2O Micelle Solution Combination Or Oily Skin - Sensibio H2O Micelle Solution Sensitive Skin
I have been using Bioderma micelle solution for about 6 years. Back then I had a bad skin reaction from Clinique 3 step products and my skin looked so bad. It was so itchy, irritated and I was so helpless I didn't know how to treat it to calm it because it was really painful. I went to the local pharmacy and I was told Bioderma micelle solution will help me and it became my favorite solution! It removes makeup perfectly but at the same very gently that even I can use it everyday. The left one is the newest one and I also love it. I have been using them alternatively because I can't pick my favorite one because they all are great and they really rescued my skin back then.
5. Sebium Mat Anti-Shine Fluid Combination Or Oily Skin
As you might know my skin is very oily but people with oily skin can't forget that our skin also need a great moisturizers and it also matifies my face good.
6. Sebium AKN Purifying Correcting Care Skin With Blemishes
I use this products when I have breakouts (I have never had so bad skin! apparently Portuguese water isn't good for me). It is also a great moisturizers but it doesn't matify my skin so good as the previous one so when I need it I use it at night.
Hope you liked this kind of post :-)
Have a great week!
Don't forget to enter my
GIVEAWAY
!