Hello everyone!
If you are following me on Twitter you might already know that I spilled coffee on my laptop so it doesn't work at all and I can't blog anymore :-( taking the opportuninty that my roommate is out and she let me to use her laptop I want to share with you my December Yays & Nays. Can you believe it's already December?!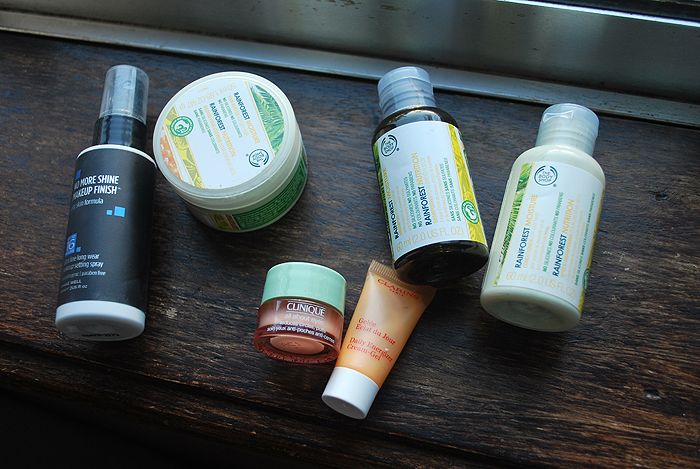 Skindinavia No More Shine Makeup Finish
I have always wanted to try out a setting spray so after a big research I picked out this one because it seems to be perfect for my extremely oily skin. I have mixed feeling about this products because I was expecting a better effect but I must say it definitely works.. and I could tell it only after forgetting to use it one day back:) It helps my makeup to last longer. My skin is still so shiny but I think I need to just purchase a better primer as far as I am cinvinced a primer is the main problem in my case. What about repurchase? I am not sure. I ordered it online back in Poland and I didn't have more option to choose ( we don't have Urban Decay there) so I think this time I will try other ones.
Yay/Nay
The Body Shop Rainforest Moisture Shampoo, Conditioner and Hair Butter.
The reason why I chose those products is very simple - I needed travel size hair products for my trips and I found them smell very nice. They are for dry hair - I have dry endings but my hair gets greasy very easily so I need to wash it every day. They are good for my hair but just nothing special. Yay for travel size.
Clinique All About Eyes
I always forget using any eye cream which I should put on my New Year's resolution list though. It is already my second jar. It moisturizes my eye area very well. I bought this travel size 3 months ago and I haven't used up it yet but I am pretty sure it is because of my forgetting thing (see the first line..).
Yay
.
Clarins Daily Cream Gel
I picked out this one because of the travel size and it is a cream gel so I found this formula great for my skin type. I have to say thay as I have been a big fan of Clarins skincare for ages I am really disappointed with this product. It leaves a weird filter on my skin and it is just greasy.
Nay
.
I hope you enjoyed reading this post!
I want to wish you all a very happy New Year! Hope to se you in January! (hope my laptop gets fixed..)