I got my samples of
La Nuit de Chanel
and
Le Jour de Chanel
and I have been using them religiously since then. It's seems to be very hyped (and expensive!) line I decided to share with you my first thoughts of these two products. To be updated.
from Chanel.com
Our hectic lifestyles disrupt skin's natural rhytms. To restore the complexion to its optimal state, Chanel created three skincare products, customized to your weekly needs. Together, the products resynchronize skin's natural rhytms for a smooth, supple and beautiful complexion.
Their packagings are very luxurious looking bottles which contain 50 ml/1.7 FL. OZ. of product (
La Nuit
and
Le Jour
$85.00 each/ 359 PLN (~$112!) and
Le Weekend
$115.00 / 435 PLN (~$136).
The difference between these two products is a matter of consistency -
Le Jour de Chanel
's consistency is like gel and it's kind of watery while
La Nuit de Chanel
is thicker. They aren't greasy, apply very smoothly but come with a strong fragrance typical for Chanel skincare. I like it but it might be problematic.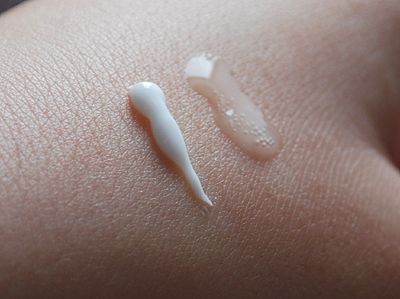 L - La Nuit de Chanel, R - Le Jour de Chanel
Le Jour de Chanel
from Chanel.com
Energizes skin so it can adapt to its environment throughout the day. Grasse Jasmine Extract invigorates the skin, while Salicylic Acid gently and gradually exfoliates to visibly minimize pores. Your complexion appears smooth and radiant, and ready to face the...You should apply it before daily moisturizer.
My thoughts? Well at first I got confused because as you might know, my skin is very oily so I usually (every day) apply my face primer after moisturizer and I was afraid it would be too much layers on my face. I was right, my foundation started to roll up and I decided to mix it with my moisturizer and it applied smoothly and my foundation stayed on:) My skin stays matter longer, that's for sure. My pores are usually very enlarged and visibile. It didn't eliminate the visibility of my pores entirely (but I've been using it only for a week) but my skin looks glow and radiant without being greasy. I am still not sure if I will purchase it because I am confused with my way of application. I don't want to (I can't! give up on my primer and I am not sure if Je Jour works well while it's mixed with my face cream.
La Nuit de Chanel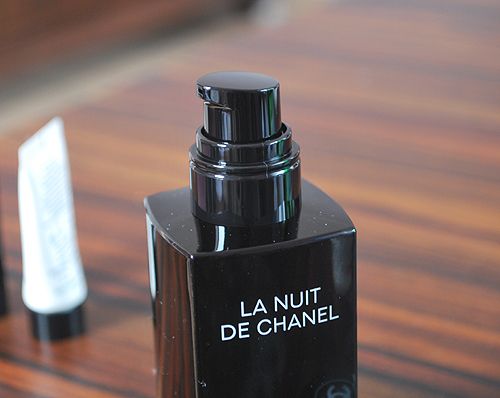 from Chanel.com
Soothes and moisturizes skin to encourage nightly recovery. Frankincense Extract calms skin to prepare for the process of overnight repair, while Hyaluronic Acid helps restore skin's plumpness and hydration. Your complexion appears supple upon awakening, with no signs of dullness. Apply in the evening. Follow with moisturizer if needed.
That being said, I haven't been using any moisturizer after applying this product because my skin feels moisturized and I don't need it. It's been a week and I've fallen in love with it. When I wake up, my skin looks so healthy and evened out. I've been also struggling with redness and I can definitely tell that my skin has calmed down. I haven't changed my foundation routine and I was surprised that it stayed matte so long! I used to wake up every day with greasy face (although my night moisturizer isn't thick!) and after one week of using it I could go out without makeup (but I don't want to;) because my skin has never looked better. I purchased yesterday full size bottle:-)
Le Weekend De Chanel
from Chanel.com
Enhances renewal and replenishes hydration to give skin a much-needed weekend break. Combined with relaxing Rose Water, a gentle Glycolic Acid Complex is gradually released for ideal exfoliation and lasting moisture. Skin is softer and more luminous for the week ahead.
I haven't tried this product because I couldn't find its sample anywhere and I won't purchase such expensive face product without trying it out first.
Has anyone of you tried it? Is it worth a splurge?
I will keep you updated:-)
Have a lovely week!
Update on 18th September
I have been using La Nuit de Chanel and Le Jour de Chanel every day.
-my pores are less visible
- no breakouts
- no redness in the morning
- my skin feels moisturized and very smooth
Upadete on 13th October
I have tried Le Weekend and I don't like it at all. It made my face feel very tight not in a good way. It was very red, itchy and so oily! Maybe it's how this whole renewing process supposed to look like but I didn't like it at all.
La Nuit de Chanel
I have been sick this week so I skipped two nights but besides that I have been using it every night for the last month.
- the elevens between my eyebrows have gotten less visible
- no redness
- no breakouts
- my skin tone has evened out