(polska wersja po prawej stronie)
First of all, I would like to thank you all for your kinds words on Instagram.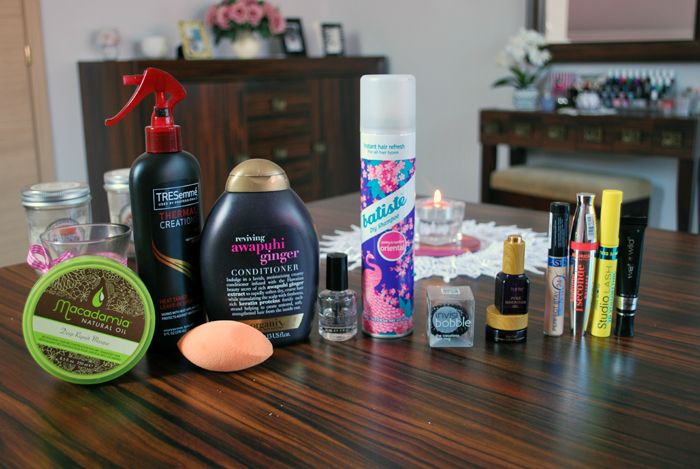 Macadamia Natural Oil

My hair is extremely frizzy and it's the only hair mask that is able to calm it down a little. It also smells gorgeous and leaves my hair very smooth and shiny. I've already reviewed it
here
.
YAY
TRESemme Heat Tamer Leave-In Spray

I haqve to use a hair dryer every day and I've been constantly looking for a good heat protectant. I finished last month the one from Organix (review
here
but I decided to give TRESemme a go since it gets so many good reviews. I have been using TRESemme for a month and I have to admit this oe is definitely better than Organix. First of all, its atomizer is much more wet hands friendly;) (Organix protectant might've slipped out of my hand once or twice..). It's very light and it smells nice (Organix smells better though). TRESemme also leave my hair more shiny than Organix and it has become my favorite heat protectant. And it's cheap:)
YAY
Organix awapuhi ginger hair conditioner

I love Organix coconut milk conditioner (review
here
), although it was too thick and almost impossible to squeeze it out of a bottle which was really annoying. Awapuhi giner on the other hand isn't that thick but it works better on my problematic hair (frizzy, extremely oily roots, my endings tend to get very dry). It keeps my hair very nourished. It smells weird, it's not a ginger for me, but maybe I'm not familiar with Hawaiian ginger:)
YAY
Seche Vite Dry Fast Top Coat

I have been using this top coat for a month and it has already gotten so gloopy and thick. Yes, my nails were very shiny but it smells really bad. I know that most of top coats get thick after a while but this time I decided to try out Essie Good To Go because I really can't stand Seche Vite's smell.
NAY
Real Techniques Miracle Complexion Sponge

I wanted to finally try out Beauty Blender but decided to give a Real Techniques sponge a go since it's much cheaper. I don't know how I could live without this little orange (bleh) thing. As you might know, I have to mix two under eye concealers, I was usually using my Sigma concealers brush or my fingers to blend them but it's much easier to use this flat side of the sponge. It's also a perfect tool for applying my foundation. It's easier and quicker to blend it into the skin. It is also a nightmare to clean. I wash my brushes every, same with the sponge, and it takes ages to get this little thing clean.
YAY
Batiste Dry Shampoo Oriental

I have been using Batiste dry shampoos for almost a year and I like them. It's not love though. The one for brown hair leaves everything dirty, the other ones are too white and powdery but they are cheap and they work well on my extremely oily hair. This one smells really lovely. It might be my favorite flowery scent.
YAY/NAY
Invisibobble The Traceless Hair Ring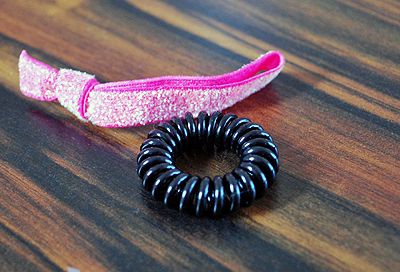 My hair is curly and frizzy and I always wear it up. I have heard a lot of ribbon hair ties that apparently don't damage your hair but they didn't work for me at all (the pink one in the picture). I visited a beauty fair last week and this hair ring has immediately caught my eye. It was cheap so I decided to give it a try. Oh my! This thing is amazing! I really regret not getting more of them. It keeps my hair up all day (even while working out), but at the same time it doesn't cause headaches and doesn't damage my hair. Like I said, my hair is curly so I was afraid that my hair would get entangled but it didn't happen.
YAY!!!!!!!
TARTE Pure Maracuja Oil and Maracuja C-brightener eye treatment

I've been hearing a lot of Tarte. For my first products I decided to try out their famous maracuja oil and eye cream.
I was so excited to try this oil. I washed my face in the evening and applied it on my clean face. I was surprised that it didn't absorb, but I did a little research and apparently it takes some time (about 30 minutes) to get fully absorbed. So I was waiting. Nothing. I went to bed and woke up with a really greasy and bright(!) skin. It didn't absorb at all. Next day I decided to apply less drops and it didn't absorb either. One day after I decided to add some drops to my moisturizer. It did't absorb. Again. My skin is very oily but at this time I had dry patches on my cheeks (allergy) so I thought it would work well on them. I've done some research before getting it and everybody claimed it's good for oily skin. So I've been using it for two weeks and.. yes, my face is brighter, but.. I haven't broken out in ages (since September). My skin has never looked better. In my foundation ramblings post you can see how clear it was (it's not perfect but in my case it was really clean and calmed down). Oh my my face hasn't looked so bad in a while:( It broke me out so badly:( Damn you Tarte.
NAY
The eye cream on the other hand is really nice. I tend to get allergic reaction to eye creams but I've been using this one for two weeks and it keeps my under eye area moisturized and brighter. I will keep you posted on this one.
YAY
Astor Perfect Stay 24h Oxygen Fresh concealer in 001 Ivory

Like I mentioned before, I have to mix two shades of concealer (NARS Vanilla is too dark for me), as the lighter one I was using Collection in Fair 1 but both NARS and Collection are a little drying and I decided to get a new one. I went to Rossmann when they had 49% off foundation, powders, concealers and blushes and I couldn't find anything light. Next day I went to the other Rossmann and there I found this Astor concealer (price was reduced to 16 PLN (about $5 from 30 - about $10)). I like that it's a little lighter yet more yellower [it's good for dark circles] than Collection. It's not drying at all and it doesn't oxidize. Mixed with NARS it stays put all day. Its coverage it rather medium, NARS&Astor combo doesn't fully cover my dark circles but I prefer this natural look rather than a 'mask'.
YAY
Bourjois Volume 1 seconde mascara

I've started using drugstore mascara about one year ago when I got so disappointed with Guerlain mascara that was really expensive yet very very bad. I went to Rossmann on Monday to get my hands on my current favorite mascara and I might've gotten 4 mascaras for me and 3 for my mother (oops) but it was again 49% off mascaras, eyeshadows, eye pencils and eyeliners. I like Bourjois Twistup the Volume 2-in-1 and at the counter I spotted their new mascara, I googled it and it got nice reviews so I got it. The brush is flexible. I don't like it at all. It's slightly annoying for me. It's really clump free even after 10 (!) coats. It makes my lashes look longer and that's all. I was really disappointed because Bourjois claims this mascara is great for volume but it's not thickening at all. And the bending brush grr.
NAY
Miss Sporty Studio Lash 3d Volumythic

It's my current favorite drugstore mascara. It's probably the cheapest mascara I have ever tried (13 PLN/~$4) and it's amazing. It's thickening and lengthening. My lashes are rather short but they are naturally curled but some mascaras tend to weigh them down. This mascara holds the curl perfectly and stays on all day. It does transfer to my brow bone though, because it makes my lashes to long. I wish they had a waterproof version of this. It tends to get dry after one month which is rather bad but it's so cheap so I don't mind repurchasing it. I got 2 backups on Rossmann sale:-)
YAY
Wet n Wild Take On The Day Eyeshadow Primer

My eyelids are very oily and I can't apply eyeshadows without a primer. I finally finished my Tom Ford primer which I hated and this time I decided to check out Wet n Wild primer which is cheap and gets great reviews. My first impression? It's a nightmare to apply it. My lashes are naturally curled and it tends to glue them together. It also rather thick and it takes time to blend it nicely. When you finally get it right it keeps my eyeshadows put all day. It's definitely better than Tom Ford and Urban Decay, I'm not sure about NARS. I prefer NARS because it's easier to blend but this one is cheaper.
YAY/NAY
Na początku chciałabym wszystkim bardzo podziękować ciepłe słowa na Instagramie.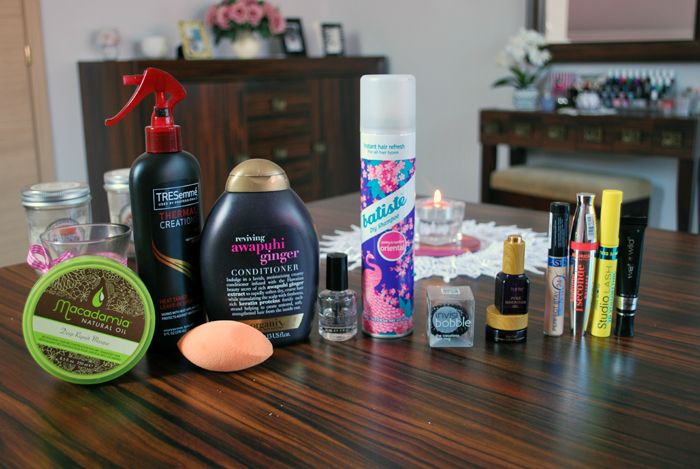 Macadamia Natural Oil

Moje włosy sa bardzo napuszone i to jest jedyna maska, która jest w stanie je trochę uspokoić. Pieknie pachnie a moje włosy po jej użyciu są bardzo gładkie i błyszczące. Już ją recenzowałam
tutaj
.
YAY
TRESemme Heat Tamer Leave-In Spray

Muszę suszyć włosy codziennie i już od jakiegos czasu wciąż szukam dobrego sprayu ochronnego. W zeszłym miesiącu skończyłam ten z Organix (recenzja
tutaj
, ale tym razem zdecydowałam przetesować TRESemme, ponieważ ma same dobre recenzje. Używam go od miesiąca i muszę przyznać, że jest lepszy od Organix. Po pierwsze ma wygodniejszy atomizer, nie wypada z mokrych rąk, Organix spadł mi kilka razy przez to, że się po prostu wyślizgnął. TRESemme pachnie ładnie, ale zapach Organix jakoś bardziej przypadł mi do gustu, za to włosy po TRESemme są bardziej lśniące, dlatego wybieram TRESemme, z tego co się orientuję jest także tańszy:)
YAY
Organix awapuhi ginger hair conditioner

Uwielbiam odżywkę Organix mlekiem kokosowym (recenzja
tutaj
), jednak była ona bardzo gęsta, przez to bardzo trudno ją się wyciskało z butelku, co mnie doprowadzało do szału. Awpuhi giner jest bardziej kremowy i działa lepiej na moich problematycznych włosach (bardzo się przetłuszczają, a moje końcówki mają tendencję do wysuszania). Po tej odżywce moje włosy są odżywione i bardzo delikatne w dotyku. Nie wiem co mam myśleć o tym zapachu, to na pewno nie imbir, chyba, że to ten hawajski, o którym ja nie mam pojęcia:)
YAY
Seche Vite Dry Fast Top Coat

Używam tego top coatu od miesiąca i już się zrobił taki gumowy(?). Zgadzam się, że to świetny produkt, lakier jest bardziej błyszczący i się dłużej utrzymuje, ale nie odpowiada mi ten zapach. wiem, że wszystkie top coaty mają tendencję to zmieniania konsystencji, jednak tym razem zakupiłam Essie Good To Go do przetestowania.
NAY
Real Techniques Miracle Complexion Sponge

Od jakiegoś czasu chciałam kupić Beauty Blender, ale w końcu kupiłam magiczną gąbkę z Real Techniques, bo była tańsza. Nie wiem jak mogłam bez niej życ. Używam dwóch korektorów pod oczy i ta płaska część jest idealna do nich mieszania ze sobą. Nigdy nie udało mi się ich tak zmieszać palcami albo pędzlem Sigmy. Bardzo dobrze się nią także rozprowadza podkład (ja ją używam na sucho). Jest to na pewno szybsze i bardzo dokładnie niż przy użyciu pędzla. Wada? Ja moje pędzle (i tę gąbkę) myję codziennie i po prostu za każdym razem gdy mam ja myć, bardzo się denerwuję. Zajmuje to bardzo dużo czasu i nie jest to łatwe.
YAY
Batiste Dry Shampoo Oriental

Używam suchych szamponów Batiste od prawie roku, lubię je, ale to nie jest miłość. Ten do brązowych włosów brudzi wszystko dookoła, a reszta pozostawia biały nalot na włosach, ale są tanie i w miarę sobie radzą z moimi przetłuszczającymi się wołosami. Ten pachnie kwiatowo i bardzo go lubię.
YAY/NAY
Invisibobble The Traceless Hair Ring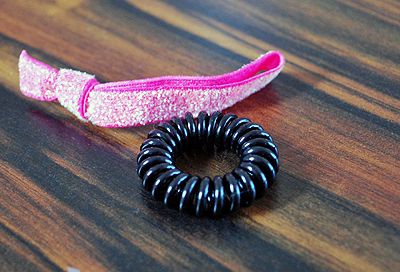 Moje włosy są falowane i bardzo się puszą, do tego zawsze noszę je spięte. Słyszałam bardzo dużo o takich 'gumkach' kokardkowych, jednak te się u mnie w ogóle nie sprawdziły. Strasznie wrzynały mi się we włosy. Na targch beauty kupiłam te dziwe 'pierścienie', za trzy zapłaciłam 12 zł. One są świetne! Żałuję, że nie kupiłam więcej. Bardzo dobrze trzymają moje włosy przez cały dzień, ale nie boli przy tym głowa, nie wrzynają się we włosy, nic się nie plącze,
YAY!!!!!!!
TARTE Pure Maracuja Oil and Maracuja C-brightener eye treatment

O kosmetych TARTE słyszałam już od dawna a moją przygodę z tą firmą postanowiłam zacząć od ich znanego olejku z marakują i kremu do oczu.
Wieczorem umyłam moją twarz i nałożyłam kilka kropelek olejku. Zdziwiłam się, ze się nie wchłania, ale google mi powiedziało, że powinnam odczekać 30 minut. Odczekałam i nadal nic. Później poszłam spać, rano obudziłam się z rozjaśnioną twarzą (wow!), ale olejek nadal się nie wcłonął. Kolejnego dnia nałożył go mniej na twarz - nie wchłonął się. Nastepnego dnia zmieszałam go z kremem. Nadal nic. Moja skóra jest bardzo tłuste, ale wtedy miałam kilka alergicznych placków na policzach. Poza tym podobno to jest bardzo dobry olejek do tłustej skóry, uspokaja ją i sprawia, że się mniej błyszczymy. Używam go od 2 tygodni i.... nie miałam żadnych wyprysków od września, w moim poście o podkładach możecie zobaczyć moją cerę bez makijazu. Nie jest idealna, ale w moim przypadku wyglądała bardzo dobrze. Strasznie mnie wysypało po tym olejku.. nie miałam takiej strasznej cery (z bolącymi wypryskami:( od dawna.. Jestem strasznie zawiedziona i wściekła.
NAY
Za to krem do oczu sprawdza się bardzo dobrze. Takie kremy bardzo często mnie uczulają, jednak ten używam od 2 tygodni i nic się nie dzieje. Okolice moich oczu są nawilzone i delikatnie rozjaśnione. W kolejnym YAY&Nay lub empties dam Wam znać, jak się dalej sprawuje.
YAY
Astor Perfect Stay 24h Oxygen Fresh concealer in 001 Ivory

Jak już wiecie, używam 2 korektorów pod oczy (NARS Vanilla jest za ciemny), jako ten jaśniejszy dotychczas używałam Colleciton Fair 01, ale obydwa (NARS i collection) są raczej wysuszające, więc stwierdziłam, że muszę znaleźć jakiś inny jako ten drugi, jasniejszzy. W czasie promocji 49% na podkłady, korektory, pudry i róże byłam w 2 Rossmannach, w końcu w tym drugim znalazłam najjasniejszy korektor. Jest świetny! Jest troche jaśniejszy i bardzo żółty od Collection (co się świetnie sprawdza w przypadku cieni pod oczami). Jest nawilżający, nie utlenia się, nie wysusza skóry. Kupiłam go za około 16 zł (z 30?). Zmieszany z NARSem trzyma się cały dzień. Krycie ma raczej średnie, ale ja takie preferuję.
YAY
Bourjois Volume 1 seconde mascara

Zaczełam używać drogeryjnych tuszów (tuszy?) do rzęs około rok temu, gdy bardzo się zawiodłam drogą maskarą Guerlain. W poniedziałek poszłam do Rossmanna, kupiłam dla siebie 4 maskary, 3 dla mamy. Uwielbiam tusz Bourjois Twistup the Volume 2-in-1, ten Volume 1 secone jest nowy, ale google mi powiedziało, że jest dosyć dobry, więc go wzięłam. Faktycznie nie robi grudek, nawet po 10 (!) warstwach. Rzęsy są dłuższe, ale nie są pogrubione:( Bardzo się na nim zawiodłam.Baaaaaaardzo mnie denerwuje zginająca się szczoteczka.
NAY
Miss Sporty Studio Lash 3d Volumythic

To obecnie moja ulubiona drogeryjna maskara. To także prawdopodobnie najtańsza maskara, którą kiedykolwiek używałam (13 zł). Jest pogrubiajaca i wydłużająca. Moje rzęsy są raczej krótkie, ale naturalnie podkręcone, a ta maskara ich nie obciąża. Utrzymuje się cały dzień, ale odbija się pod brwiami, bardzo żałuję, że nie ma wodoodpornej wersji. Niestety wysycha po miesiącu, ale za 13 zł można jej to wybaczyć. W trakcie promocji Rossmanna kupiłam 2 nowe:)
YAY
Wet n Wild Take On The Day Eyeshadow Primer

Moje powieki są bardzo tłuste i nie mogę nakładac żadnego cienia bez bazy. W końcu udało mi się skończyć moją nielubianją bazę z Toma Forda i tym razem postanowiłam kupić tę z Wet n Wild. Tania i podobno skuteczna. Jak już wspomniałam wyżej, moje rzęsy są podrkęcone i ta baza bardzo je skleja:( trudno się ją rozciera, bo szybko wysycha. Ale gdy juz nam się to uda, utrzymuje się cały dzień. Jest lepsza od Toma Forda i Urban Decay, co do NARSa to nie jestem pewna. NARS lepiej się nakłada, ale ta jest tańsza.. wybór należy do Was.
YAY/NAY